Welcome to Taos Lodging, Vacation Properties and Casitas
Located on an acre of lush secluded property, Taos Lodging is situated right off of main street, Paseo del Pueblo Sur in Taos, New Mexico, just moments from Downtown Taos Plaza. We have 8 private casitas, or small cottages, each with its own unique charm. Our casitas are perfect for group gatherings such as weddings, family reunions or a romantic getaway.
It is said that Taos is not really a town, village or even a place… it is a state of mind.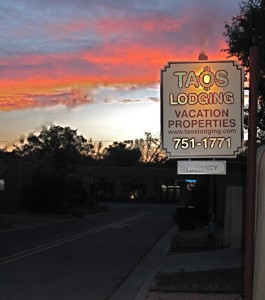 Come explore, relax and rejuvenate with your own casita at Taos Lodging. This estate was built in the 1940's by the Garcia family and offers "Old Taos Charm" in the heart of the Historic District. Just moments away from your casita, Taos offers New Mexican Cuisine, live music, art galleries, shopping, hiking, skiing and the Taos Pueblo. Delight in the traditional adobe architecture of your casita with the modern amenities of home. Your casita is complete with off street parking, full kitchen, living/dining area, private covered porch and wireless internet access. After a day spent exploring Taos, unwind in the glow of firelight while soaking your weary bones in our outdoor hot tub. This property is family owned and operated and we welcome families and furry friends to roam our gardens, take a nap in the outdoor hammock or BBQ on the patio.
Taos Lodging's location, historic adobe casitas and spacious grounds and gardens sets us apart. We are honored to have you as our guests and share all that Taos has to offer.
Amenities
• Private Entrances
• One or Two Bedrooms
• Twin, Queen or King Beds
• Queen Sofa Sleepers
• Full Kitchens
• Living Rooms and Dining Alcoves
• Full Baths
• Gas Fireplaces
• Ceiling Fans
• High Speed Internet
• Private Front and Rear Decks
• Access to Laundry Facility
• Outdoor Hot Tub and BBQ area
Common Areas