Welcome to Taos Lodging
At Taos Lodging we offer you 8 sweet and unique casitas set on a shady and secluded acre on quiet Brooks Street. Located on the northside off Taos' main street, Paseo del Pueblo Norte, just a 1⁄4 mile walk from the Historic Taos Inn, Taos Lodging is a short stroll away from Bent Street, Kit Carson Park, the John Dunn Shops and the Historic Taos Plaza.
Built in the 1940's by the Garcia family as a family compound, our casitas offer you loads of "Old Taos Charm" with some of the best in modern conveniences. Delight in the traditional adobe architecture of your casita with the modern amenities of home – high speed internet, flat screen TVs, your very own kitchen and bath, comfortable beds and better quality linens, wood and tile floors, ceiling fans, ample off street parking, a living/dining area, and a private covered porch. After a day spent exploring Taos, unwind and soak your weary bones in our outdoor hot tub. If you feel like cooking outdoors, we offer you a place to grill; if relaxing is your goal, settle into a hammock; if you are a bit more active – how about a game of horse-shoes, badminton or croquet? If you want to catch up on your movies – we offer you a library of DVDs. At Taos Lodging we work hard to make our little compound with its flowers, lawns, and shady nooks a place that you will want to call your home away from home.
It is said that Taos is not really a town, village, or even a place… it is, rather, a state of mind.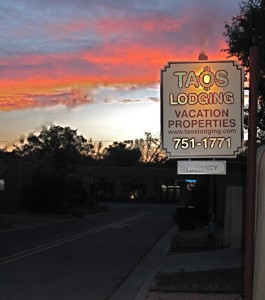 Come to Taos for its history – Taos Pubelo is a UNESCO World Heritage site that dates back a 1000 years; the Spanish churches of our valley date to early 1800s. If art is your thing we have both museums and galleries that showcase world-class artists who live and make art here. Try the Taos Art Museum at Fechin House, the Harwood Musuem or the Millicent Rogers. If you like live music, at least two venues in town show case a local artist or a musician traveling through town – check out The Adobe Bar, The Alley Cantina or Taos Mesa Brewing. Taos has a vibrant theatre scene – look through the Tempo that comes out each Thursday. And then there is the land itself – cool clean air and water, bright light, azure skies, blazing sunsets and sunrises, and views on clear days that stretch across over sixty miles of terrain. Hiking, skiing, river- rafting, mountain-biking, fly-fishing and rock-climbing and are some of the activities to keep you busy across the Valley.
Amenities
• Studio, One or Two Bedrooms
• Twin, Queen and Kings beds
• Sleeper Sofas
• Full Kitchen
• Full Bath
• Living Rooms and Dining Alcoves
• High Speed Internet
• Shampoo, Conditioner and Body Wash
• Private Entrances
• Private Front Porches
• Outdoor Hot Tub and BBQ Area
• Access to Laundry Facility
• Cable TV and DVD players
• Ceiling Fans
• Gourmet Coffee in each Casita
Common Areas